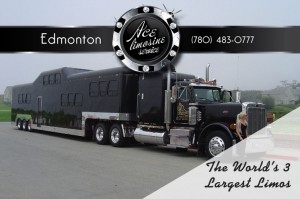 Limos have always been able to catch our attention. When we see a limo we immediately think celebrity, someone important or a wedding party. They are a symbol of importance for those who are riding in the limo, especially since you do not see limos driving down the road all the time. Before, limos were just extended cars, but now you can even order an extended SUV limo. Let's take a look at the 3 longest limos in the world!
The longest limo in the world according to the Guinness Book of World Records is 100 feet long, and surprisingly, it is mobile. Due to its staggering 26 wheels, it can roll along just fine!
Incredibly, this limo comes complete with a Jacuzzi, sun deck, and pool. No limo would be complete without its own helipad too, right? They say this limo is big enough to fit an entire football team and still have room to spare. This limo has since been retired and resold to an unnamed bidder.
The next limo on our list will turn heads no matter where it goes. Known as The Midnight Rider, this limo is 70 feet long and weighs 25 tons! This limo can hold 40 people comfortably. The Midnight Rider was built between 1997 and 2004 and is connected to a big rig front end to pull it. It is reminiscent of an RV trailer being pulled by a big rig. It truly is quite a sight.
The third and final limo on our list is a Chevrolet Corvette C6. This limo screams luxury the entire way around. This particular limo measures in at 220 inches long. Convert that 220 inches into feet, and you have just a little over 18 feet worth of luxury right here.
There are so many types of limos out there today, from the extremely long to the extremely weird, I guess you could say there really is something for everyone's taste.